Hey, sorry I dont have my family members' scanned pictures with me, I'll upload the pics as soon as I get a scanner!!!

Anyway, why dont I tell about them ?
I'm so lucky to have so lovable and understanding parents..yea,I'm really really lucky and I thank GOD for giving me such parents !!!
Ok, My father's name is Ramachandran, he's a working in a private concern there in Ernakulam. I respect him and he's the best in the world. I LOVE HIM very much !!!

My mother's name is Rema, shes a housewife, and she's the best.I love my mother very much !!!

My One And Only Sibling
Then comes my one and only l'il sister, Sandhya.She's so lovely and but she always do things that makes me crazy :-) Hey, that was a long back , when we were just kids, now she's working as a +2 school teacher in kerala after completing MA BEd and she love me very much, and I love her too!!!

Ok, I told you I'm not married , still you want to know whether I have children , right?

hey , I'm not that kinda person , just an ordinary Indian Crazy Guy ...hehehehe....hahahahah..

My policy is Children only after marriage...
so you may be wanna know when am I going to marry ?
marriage is when I meet a special girl ? when is that :-)
I DONT KNOW !!! <<dreaming>>
Yea, I guess its a nice idea to present my family tree as an UML diagram :-) ..Being a software engineer, am I seeing everything as an objects!! Kudos to Bjarne Straustrup and other OOPS developers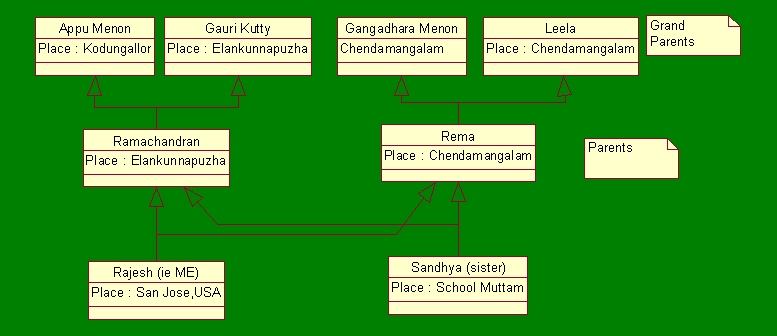 Finally I got my sister's picture ..Here is it !!!